Your Own Private Island Retreat for Just £9.5million
Columbia & Pea Island For Sale – £9.5million
Ever fancied owning your own private island a short boat ride away from the hustle and bustle of 'the city that never sleeps'? Well, now you can if your purse or wallet is big enough, that is!
Lying just off the coast of New Rochelle, New York near the mouth of Long Island Sound, Columbia Island and neighbouring Pea Island are located just a short, 30-minute speed boat ride from Manhattan.
Columbia Island (previously called Little Pea Island) was developed by TV broadcast company CBS in the 1940s to house a radio tower, which was subsequently destroyed in a storm. The island was then gifted to the College of New Rochelle by the next owners. In 2007, the island changed hands again when current owner Albert Sutton, a doctor/author/property developer paid just over $1 million for it, then embarked on an 11-year, $8 million mission to transform the island into a luxury island retreat. Sutton later bought neighbouring Pea Island from a local yacht club for c. $450,000.
Sutton talked about his impulse buy:
"You get on the island, even if it's a wreck, and it's just gorgeous – the sky, the tide, the birds, everything," Sutton told Bloomberg. "And that sort of blinded me and my thoughts. I just went: "Wow, what a Zen experience this could be."
Sutton's huge $8 million spend resulted in the creation of a stunning 5,625 square foot luxury residence housing four bedrooms and two bathrooms. Its industrial-style interior features a spacious living area and open plan kitchen graced by polished concrete floors and exposed brick walls.
Extensive glazing, a red brick patio and garden terrace areas offer exceptional views across the sound while the rooftop terrace affords stunning, panoramic views of New York's skyline and nearby New Rochelle.
The self-sustaining property features a rooftop array of solar panels backed up by two 50-kilowatt generators to power the property while a desalination machine provides clean water. Moreover, the property has been built to withstand almost any storm, with a 5-foot-thick concrete sea wall, automatic storm shutters and a water pumping system for the basement.
The island fortress certainly needs to be hurricane proof as evidenced by neighbouring 3-acre Pea Island that is also included in the Sotherby's sale. Pea Island once housed several properties built by the Huguenot Yacht Club.
All the buildings were completely destroyed by a storm in 1992, leaving the island to return to its barren, sandy and rocky state once more.
Columbia and Pea Island have been listed for sale by William Pitt Sotheby's International Realty for a cool $13 million (approx. £10.3 million). View the video tour below.
What would you do living on your own private two-island retreat a short boat ride from New York City?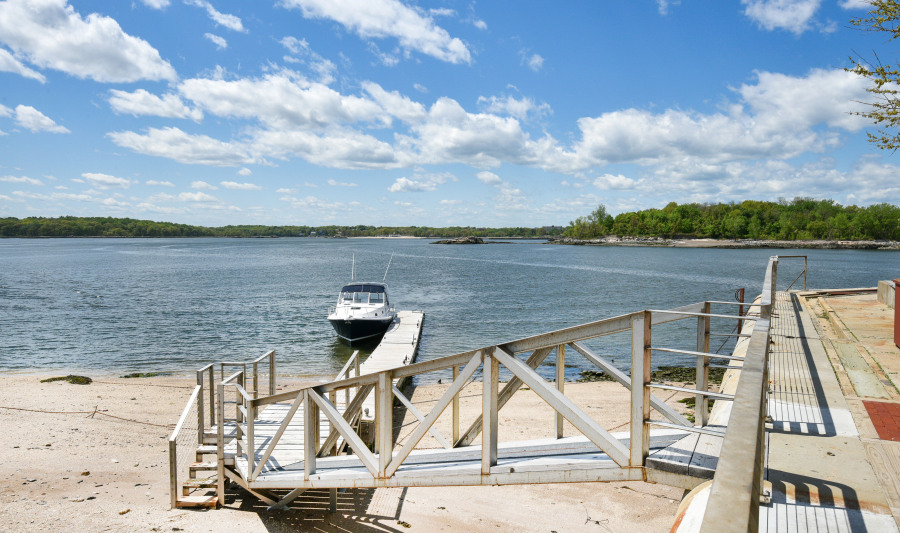 Buy Columbia & Pea Island From Sotheby's for $13,000,000 (£10,289,500.00)
Images Courtesy of William Pitt Sotheby's International Realty www.columbiaislandny.com